Press Releases
Rowan signed an MOU with the Korea Occupational Therapy Association to…
본문
Aging Society Delays Dementia Through Cognitive Intermediation Treatment
Brain health care for the elderly using the digital cognitive intervention program "Superbrain"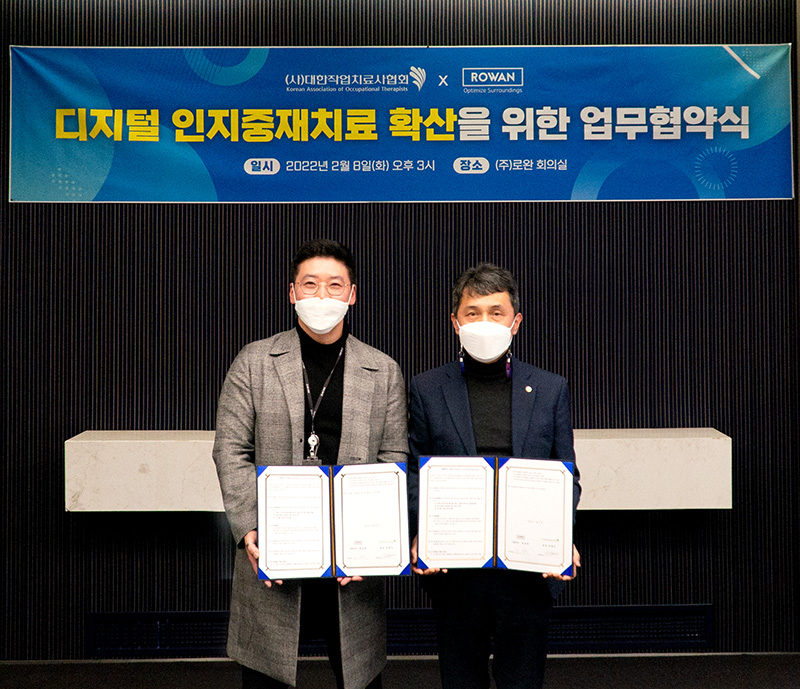 Rowan (CEO Han Seung-hyun), a company that develops digital treatments for brain diseases, announced on the 11th that it has signed a business agreement with the Korean Association of Occupational Therapists (Chairman Jeon Byung-jin) to improve cognitive function for the elderly.
 From the left, Han Seung-hyun, CEO of Rowan, Jeon Byung-jin, chairman of the Korea Occupational Therapy Association
Accordingly, the two companies will actively introduce cognitive intervention treatment to jointly develop cognitive training programs that reflect opinions from the field and improve brain health and lifestyle of the elderly.

he Korea Occupational Therapist Association was founded in 1993 with the approval of the Ministry of Health and Welfare as an occupational therapist organization under the regulations of the Medical Service Act. It is an association aimed at contributing to the improvement of public health by conducting research and development of occupational therapy and occupational therapy technology.

 Han Seung-hyun, CEO of Rowan, said, "We conducted an agreement in line with the changing medical trend due to the prolonged COVID-19," and through this agreement, we will overcome dementia, a national problem, by developing additional cognitive training contents that actively reflect the expertise and know-how of occupational therapists who face the elderly in the field.