Press Releases
Rowan and Heungkuk Life Insurance signed a business agreement to preve…
본문

Rowan's cognitive training program 'Super Brain' is included in Heungkuk Life Insurance's dementia insurance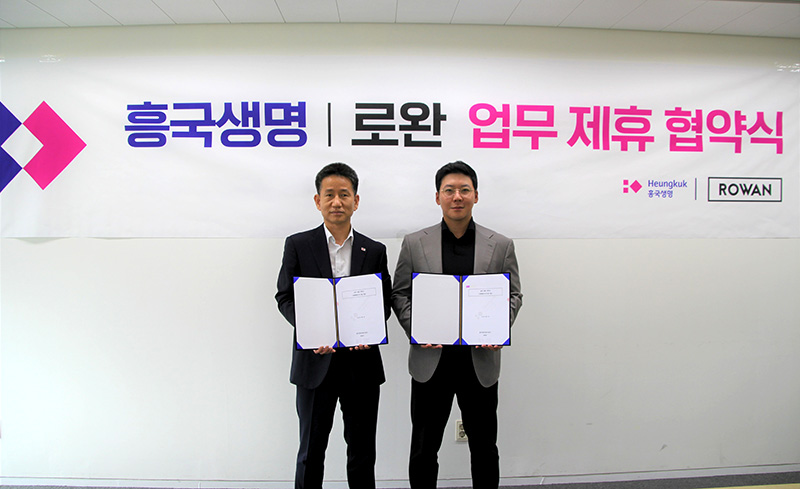 Rowan (CEO Han Seung-hyun), a digital treatment development company, announced on the 8th that it has signed a business agreement with Heungkuk Life Insurance (CEO Lim Hyung-joon) to "prevent smart dementia."
Hungkuk Life Insurance Co. is launching as a front of as a result of this agreement, dementia Rowan in the insurance of cognitive training program can take advantage of the "Super Brain".
In fact, Heungkuk Life Insurance's recently launched "Heungkuk Life Insurance for Dementia" is also included, so subscribers of the product (when subscribing to a special contract for mild dementia protection) will receive one-year cognitive training ▲ brain health exercise ▲ diet management as well as six visit care services per year. It is the first insurance company to provide a digital-based cognitive training pr
ogram.
From the left, Son Myeon-jung, head of product affairs, and Han Seung-hyun, CEO of Rowan
"As dementia progresses slowly over a long period of time, prevention and preparation are essential," said Han Seung-hyun, CEO of Rowan. "We hope that the services held by the two companies will serve as an opportunity to overcome dementia, a national and social problem."
We are encouraged to cooperate with Rowan with unique know-how and technology in the digital treatment sector, said Son Myeon-jung, head of Heungkuk Life's product affairs division. "We will continue to develop customer-centered products by utilizing the infrastructure of the two companies."
Meanwhile, Rowan is a company that develops digital treatments for brain diseases that have developed the digital cognitive intervention program "Superbrain." Superbrain proved the effect of multi-mediation in five areas, including vascular risk factor management ▲ exercise ▲ nutrition ▲ motivation ▲ through clinical trials conducted for 152 people aged 60 or older for about three years.