Press Releases
Rowan-Korea Senior Citizens' Association signed an MOU to revitalize s…
본문



Cooperation in non-face-to-face dementia prevention and management services in an aging society
Superbrain is taking care of the elderly's brain health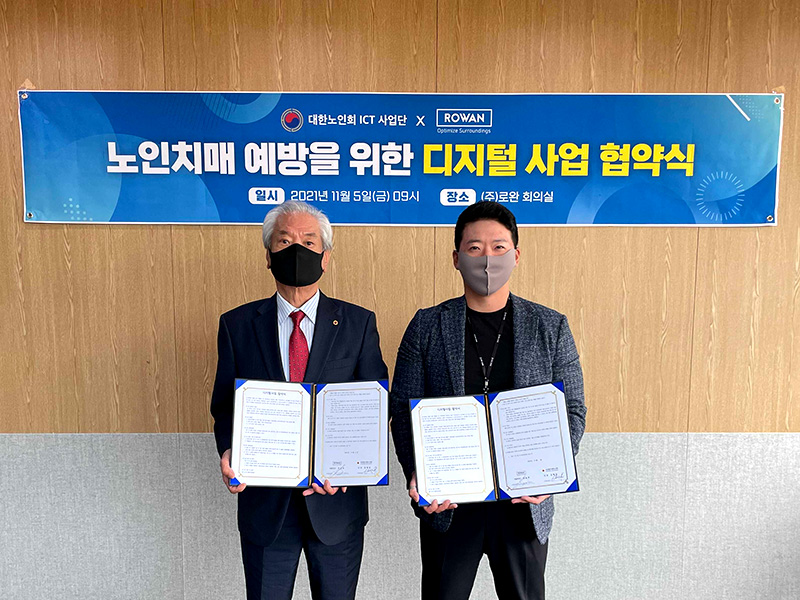 From the left, Kim Haeng-il, head of the Korean Senior Citizens' Association, and Han Seung-hyun, CEO of Rowan
 Rowan (CEO Han Seung-hyun), a company specializing in digital treatment for brain diseases, announced on the 5th that it signed an MOU for senior health care with the Korean Senior Citizens' Association (Chairman Kim Ho-il) and delivered 10 million won worth of donations. Accordingly, the Korean Senior Citizens' Association decided to use Rowan's AI-based cognitive intervention digital treatment, "Super Brain," to improve their brain health and lifestyle and further overcome dementia, a national problem.
The two companies recently signed the MOU, agreeing that the cognitive function of the elderly is weakening as the facilities for the elderly have been reduced and operated due to the prolonged COVID-19. Kim Ho-il, chairman of the Korean Senior Citizens' Association, said, "We proceeded with this agreement in that the number of dementia patients increases rapidly and related costs increase due to the increase in brain diseases with aging population."
Rowan's "Super Brain" is the first digital treatment in Korea that has been developed and clinical with neurology medical staff. Superbrain demonstrated multiple cognitive intervention effects in five areas: cognitive learning, vascular risk factor management, exercise, nutrition, and motivation in the relevant clinical trial. Based on this, services are currently provided to more than 50 dementia relief centers, welfare centers, and hospitals.
n addition to preventing dementia using superbrains, we will accelerate senior healthcare projects and developments that can be easily accessed by the elderly with interest, said Han Seung-hyun, CEO of Rowan.